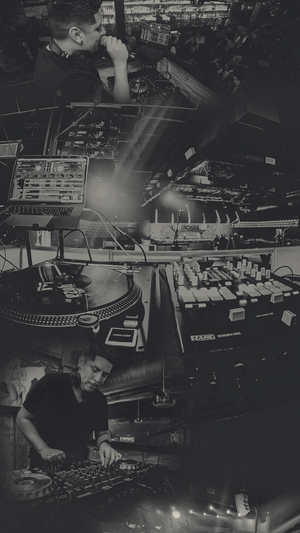 Bio
Jose, better known as DJ Ezoh, has dedicated his life to music and the art of DJing. Born and raised in Austin, Texas, Jose fell in love with music and dance from a young age, particularly with the rhythm of Cumbia. He learned to dance by attending quinceaneras and parties where his father was the DJ, and he began going to clubs with his older sister at just 12 years old. He would dance for hours to the mix of Cumbia, Duranguense, Nortenas, and later Tribal music, loving the energy and escape it brought him. 
In 2006, Jose started experimenting with music as a hobby, creating Cumbia remixes he had heard the big DJs play. He was self-taught, researching and watching hours of YouTube videos until he figured out how to make a rack-mount DJ CD player and mixer setup work that his mom had brought home from a garage sale. His first gig came when his mom asked him to play for his brother's 15th birthday party, and he never looked back. 
Since then, DJ Ezoh has become a staple in Austin's nightlife, performing at some of the city's most renowned venues, including 6th Street's Mala Vida and Chupacabra Cantina. He has also made a name for himself playing at weddings, quinceaneras, and other private events. DJ Syko helped him get his foot in the door downtown, and DJing for Sonido De La Kalle gave him the experience he needed to excel at these special occasions. 
What sets DJ Ezoh apart is his ability to make people feel. He has a natural talent for invoking nostalgia, excitement, and other emotions through his mixing techniques and song choices. He understands that people come to his shows to escape their daily lives and let loose, and he delivers every time. Though he is not naturally extroverted, he has learned to master the spotlight through years of experience, all while staying true to the art form he loves.
VENUES PERFORMED:

 

— 6th Street Austin Texas —

Mala Vida , Austin TX

Chupacabra Cantina, Austin TX

The Jackalope, Austin TX

Valhalla Esports Lounge, Austin TX 

The Ranch, Austin TX

Greenlight Social, Austin TX

Lux, Austin TX

Lit Lounge, Austin TX

Soho Lounge, Austin TX

Moonlight, Austin TX

Recess Arcade Bar, Austin TX

Trophy Room, Austin TX

Shakespeare's, Austin TX

Thirstys, Austin TX

Old School Bar, Austin TX

Pour Choices, Austin TX

The Aquarium on 6th, Austin TX

The Rooftop on 6th, Austin TX

Pekerheads, Austin TX

The Library Bar, Austin TX

Mooseknuckle Pub, Austin TX

Moose Bar, Austin TX

Toulouse, Austin TX

The Lodge, Austin TX

The 512 on Sixth, Austin TX

Cheers Shot Bar, Austin TX

Voodoo Room, Austin TX

— Other Austin Texas — 

Mala Vida, Austin TX

Rosa Mami, Austin TX

Mala Santa, Austin TX 

Seareinas, Austin TX

Gabrielas Downtown, Austin TX

Gabrielas South Austin, Austin TX

Volstead Lounge, Austin TX

The Jackalope Southshore, Austin TX

Fast Eddies, Austin TX

Spinners Bar and Grill, Austin TX

Club Pachanga, Austin TX

El Dorado Night Club, Austin TX

La Rumba Disco, Austin TX

Club Media Noche, Austin TX

Club Galaxy, Austin TX

 

— Round Rock Texas —

Fast Eddies, Round Rock

Long Branch Saloon, Round Rock TX

Esquina Cantina, Round Rock TX

 

— San Marcos Texas —

The Rooftop On The Square, San Marcos TX
SUPPORT PERFORMANCES FOR:

 

Larry Hernandez

Mariah Angeliq

La Leyenda

Grupo LMT

Fidel Rueda

Aldo Trujillo

Groupo Mojado

Yndio

Palomo

Alegres De La Sierra

Los Traviezoz De La Zierra

Leandro Rios

Los Cuates De Sinaloa

Sonora Dinamita

Diana Reyes

Montez De Durango

Los Herederos De Nuevo Leon

Betillo Guerra

Los Cadetes De Linares, Homero Guerrero Tercero

Juan Acuna

Los Remis

Grupo Massore

Tiranos Del Norte

Tito Torbellino Jr

Legado 7

Los Farmerz

Los Nuevos Escoltas

Kanales

Edgardo Nunez

Panchito Arredondo

Javier Rosas

Jose Torres

Enigma Norteno

Los Principez de la musica Nortena

Altitud Norteña

Los Remis

La Clave De Mexico

Banda Cerritos

Mario El Cachorro Delgado

Impostores De Nuevo Leon

Banda La Ejucativa

 

Seto Vargas Y Sus Calentadnos

Banda Cerritos

Francisco Elizalde

El Flaco Elizalde

Banda Territorial

Conjunto 4 Norte

Grupo Lince

Las Lluvias Del Norte

La Banda 614

La Decima Banda

Banda Renovación

Banda La Que Dijimos

Estrellas De Tierra Caliente

El Tigre Y Su Banda Tierra Nueva

Banda La Orgullosa

La Conquistadora Banda

Bryan Lopez

Miguel Gonzalez

La Imparable 737

Ritmo Alegre

La Original De Tierra Caliente

Calor

Saul Benitez

Seto Vargas

La Sencillez De Tierra Caliente

Joel Loredo

Oskar Ramirez Y Su Destructiva

La Fuerza Musical

Miguel Ortiz

Legado Activo

Los Envuelados

Banda Autentik 512

Banda La Mas Querida De Sinaloa

Los Envuelados

Monica Reyna

Pamela Chup

Grupo Exclusivo ATX

Gary Show

Batalla De Campeones

Mike Jones